SPANISH COURSES IN MEXICO.
General Information:
During your first day of school, you will be required to take a placement test ( except for absolute beginners) in order to determine your level of Spanish language. If you are taking a Special Group Spanish Course, you will take a specialized test on the subject that will be taught to the small group or a test that fulfills the requirements of your company.
All Spanish courses start every Monday, except for absolute beginners (every 2 weeks). For course dates for absolute beginners please go to the DATES AND PRICES section.
The Spanish courses levels are the following:
COURSE LEVELS

Beginners A
(60 lessons)

No knowledge of Spanish language, first Spanish experience in a Spanish country. Students are taught the basics in Spanish communication and at the end of the level will be able to interact in common life situations.
Beginners B
(60 lessons)
Students develop the capacity to express ideas in past, present and future tenses.
Intermediate 1 & 2
(160 lessons)
Students are taught to communicate in diverse topics, students will be able to read simple books and write essays in Spanish. Conversation with Spanish speakers will be fluent.
Advanced 1 & 2
(160 lessons)
Students will improve their skills and eliminate common errors in speaking and writing. Students probably took courses in some Spanish speaking country.
After completing each level , students will receive a Certificate of Accomplishment for attending courses with our school.
Types of Spanish Courses
STANDARD

Groups of a maximum 9 students are gathered in one class. At the end of each course and every 2 weeks, students take an examination to pass on to the next level.
INTENSIVE

Intensive courses consist in Standard courses in the morning and extra lessons in the afternoon, with a maximum of 9 students per class. With intensive courses students will complete each level faster. Only available in beginners and intermediate levels.

If there is only one student registered for the afternoon session, his classes will be changed to private lessons (equivalent of)

SUPER INTENSIVE
This courses consists of the Standard Course Plus additional private lessons (one-to-one). The individual lessons are specifically designed for your specific needs, for perfectining skills or for preparing for Spanish examinations.
COMBINED
The most intensive Spanish ourse we offer, 4 hours of private lessons from Monday to Friday.

COURSE FOR PEOPLE WHO WORK IN MEXICO

This course starts the first Monday of each month and lasts 4 weeks per module. There are 8 modules in total. The course is focused in conversation and grammar in business related topics for people who work in Mexico and cannot attend a normal course. The course take place from at night Monday to Thursday.

SENIOR PROGRAM

Offered from July to August, the programme consists in 4 weeks of standard course, plus housing at the school residence plus cultural activities.

SPANISH BY SKYPE

For students who cant travel to Mexico City, we offer the possibility to learn Spanish online by skype.
Private group courses
We also organize courses for schools, Universities or visiting groups of students. For instance we have hosted student groups of teenagers from the US, and University students from the Netherlands as well as high school students. TWe also organize such courses for embassies, companies and groups of similar interests.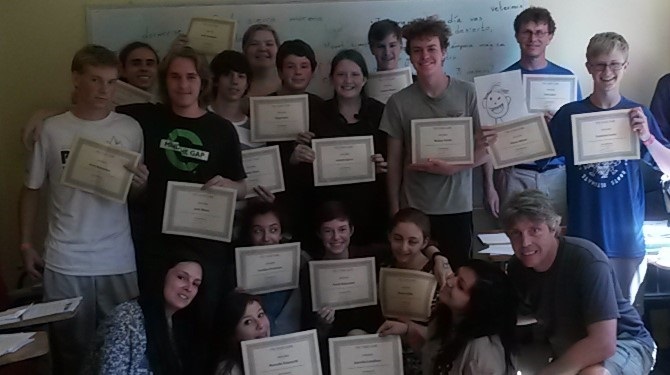 Denver Group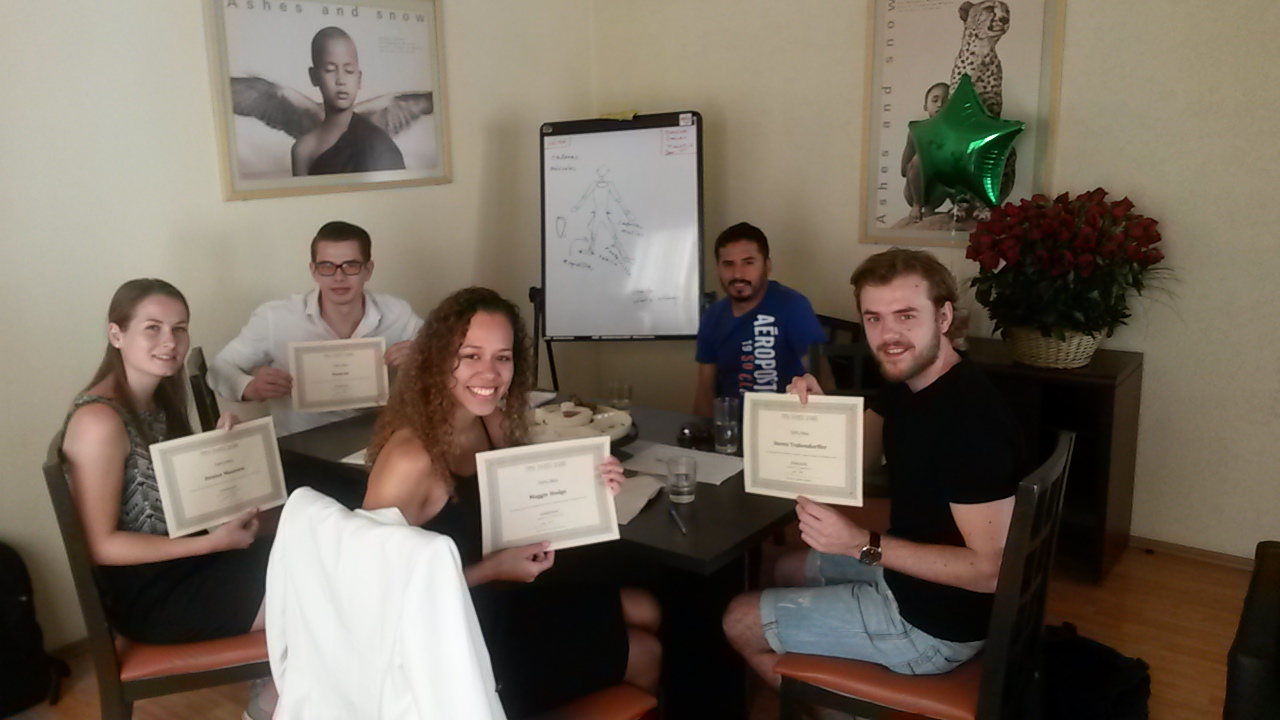 Dutch group
Mexican Cuisine
*Individual courses are available at $18 - $22 per class

Groups of a maximum 9 students are gathered in one class. Please email us to organize
Leisure
As a complement to our lessons, each week will be full of leisure and cultural activities that will keep each of our students in touch with the Mexican way of living. With all our activities, your abroad experience will be full. Leisure activities include:
Weekend visits to Guanajuato, San Miguel, Puebla, Oaxaca, Acapulco, Michoacan, Valle de Bravo.
Party, bar and disco night organized at some hot spot in the city.
Guided visits to spots within the city: pyramids, museums, etc.
Special courses held at the school as complement to Spanish Courses.
Every Monday before class, students will be provided with a list of tours where they have to choose which ones they would like to sign up to. List has to be returned by Tuesday morning. We do need a minimum number of students for the tours to take place.
| | | | |
| --- | --- | --- | --- |
| | | | |
A TYPICAL EXAMPLE OF OUR CULTURAL PROGRAM WOULD BE:
MONDAY

Welcome taco party to foreign students.
TUESDAY

Mexican Culture video: Frida Kahlo.

WEDNESDAY
Museums: Visit to the Museum of Mexican Anthropology
THURSDAY
Night Activity: Bars and Discos of Condesa, Mexico. Meeting time: 9 PM.

FRIDAY

Dancing lessons

SATURDAY

Weekly excursion to Acapulco. Meeting time 9:00 am.

Option B: Excursion to the Aztec Pyramids. Meeting time 11:30 am.

SUNDAY

Weekly excursion. Return to Mexico City.

Option B: Morning in Xochimilco?s Trajineras. Meeting time 10:00 am. Please bring food and drinks along.
Our students know how to have fun:
For internship and volunteer information please go here.